Jim Register started with State Farm in 1975 and proud to say that he has been an Agent since 1996. During that time, he qualified for Bronze Tablet, Silver Scroll, Golden Triangle and Crystal Excellence Honor awards as well as an Ambassador for Life qualifier. Jim am a lifetime resident of Jacksonville and graduated from Southern Illinois University.>
He has had the opportunity to serve in his community by being a Past President of the Rotary Club of Mandarin, he served as Rotary District 6970 Assistant Area Governor, he is Past Chairman of the Duval County Planning Commission and Past Chairman of the Duval County Civil Service Board. He joined NAIFA (then NALU) in 1996. He is married to Sue Register.
About the Community Service Award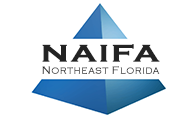 The Community Service Award was established in 1977 to recognize an individual who is active in the Association and has contributed his or her time and talents to organizations within the community. NAIFA-Jacksonville encourages everyone to give back something to the community in which they earn their livelihood.
The responsibility of chairing the nominations of the Community Service falls on the shoulders of the past recipient. Past recipients of the award are automatically elected to the committee.
The recipient of the prior year is also the presenter of the award to the current winner and the recipient for two years ago is responsible for holding the nominations for the next recipient. They generally meet in August and the Awards chairperson will need to follow up to make sure that this goes according to calendar.
There are no nominating forms or set procedures. The task is to identify the person in our industry who the committee feels deserves to be recognized for their outstanding work in our community. The award presentation takes place at the annual NAIFA-Jacksonville Awards Meeting. A presentation of an engraved silver bowl is presented at this time.
Congratulations to all of our Community Service Award recipients!
2018 William S. Koch
2017 Margie Williams
2016 Andrew Laino, CFP, CLU, CLTC
2015 Jim Love, CASL, CLU, CPCU, LUTCF, ChFC
2014 Harry Blanton
2013 Mark Bailey
2012 Maureen Kirschhofer, CLU, ChFC
2011 Craig Dewhurst
2010 Carldon E. Lahey, Jr. CLU, ChFC
2009 Todd Middleton
2008 Thomas A. Boyd, CLU
2007 Ed Clements
2006 Robin Wahby, CLU
2005 Rod Binczak *
2004 Alicia Burst
2003 James F. DeLay, CLU, ChFC
2002 Cherri M. Coombs, LUTCF
2001 Matt Carlucci
2000 Michael P. DeSanto, LUTCF
1999 Chris Verlander
1997 Ron Weaver
1995 Eric Smith
1994 Joseph H. Arnall
1993 Arch W. Cassidy *
1992 T. O'Neal Douglas
1991 John E. Hazard, CLU, ChFC
1990 J.F. Bryan, IV
1989 Robert E. Dickson, CLU, ChFC
1988 Robert O. Purcifull
1987 E. William Nash, CLU
1986 Wilford C. Lyon, Jr.
1985 W. Ashley Verlander
1984 Carter B. Bryan
1983 Marvin B. Harper, CLU
1982 I.M. Sulzbacher *
1981 Frank J. Brennan, CLU
1980 Fred C. Jackson, CLU, ChFC
1979 William K. Mouro
1978 David E. Harrell, CLU
1977 J.F. Bryan, III
* deceased